CORBIN, KY – You can learn a lot about a person while sharing a cup of coffee. Kevin Flora, Ph.D. and Josh Coppock found their interests intertwined and their goals aligned at a coffee shop in Corbin in 2017. Three months later, they were in business together as co-owners of The Holler Creative.
Now four years in, the Whitley County entrepreneurs have created a successful digital marketing company with the common goal of seeing Appalachian businesses in communities across the region flourish.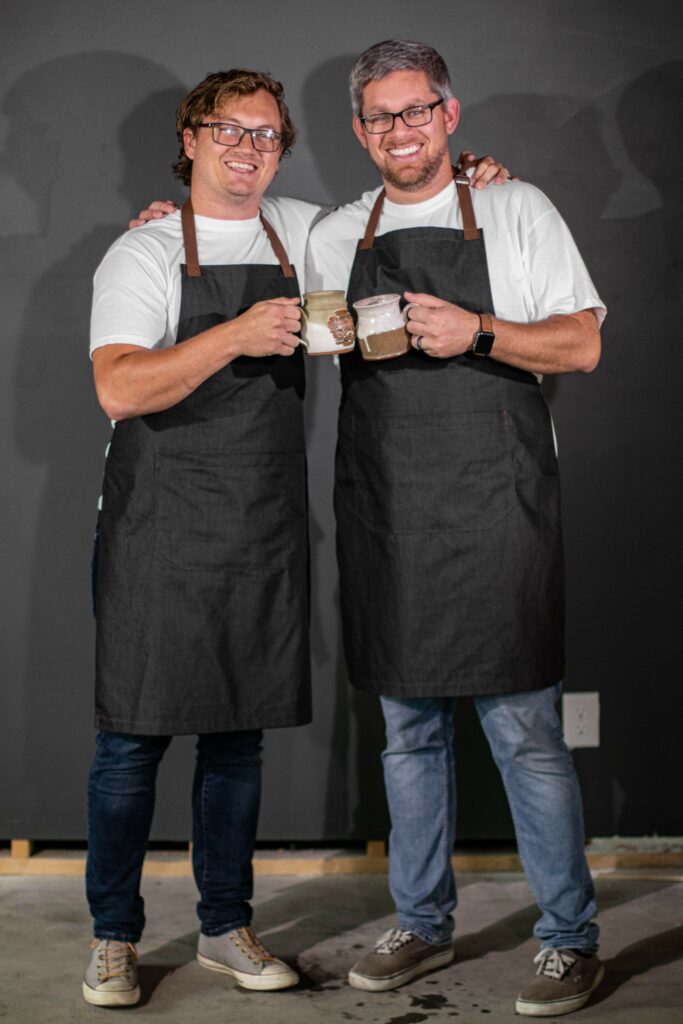 "It was amazing how our desires and mission both aligned right out of the gate, Flora explained. "God truly brought us together to accomplish a bigger overall goal – and we chose digital marketing as our beginning ground to conquer that goal of bringing hope and opportunity into Appalachia."
Flora is an Ohio transplant with Eastern Kentucky roots. Coppock is a Corbin native. Together, they've dug their heels into these hills of Appalachia and are leveraging their talents, educations and life experiences to help redefine the way people think about its residents and the way business is done in the region.
The Corbin-based business is a full-service marketing company providing services such as business consulting, marketing plan development, website design, e-commerce setup, media creation, advertising, video production, graphic design, analytic dashboards and so much more.
Some of their customers include Grace Health, Appalachian Wireless, Addiction Recovery Care, AdventHealth Manchester and Kentucky Organ Donor Association. And the list continues to grow.
Today, they have 15 employees, including eight full-time staff members and multiple interns.
They've partnered with the University of the Cumberlands in nearby Williamsburg, Ky. to develop a paid internship program for students interested in careers in marketing. The internship program allows them to identify new talent for their team.
In 2019, The Holler Creative launched Lachian Clothing, an AppaLACHIAN-inspired apparel company, and in 2020 started Forged Sign Company to build custom signs for businesses across Appalachia.
The Holler Creative's newest venture is Explore Appalachia, a collaboration with Shaping our Appalachian Region (SOAR) and Ale-8-One meant to bring attention to Appalachia's beauty, diversity, and experiences to increase tourism and highlight the attributes of the region.
The company was named one of SOAR's: Top 10 Appalachian Kentucky Businesses to Watch in 2021.
"They are a full-service marketing company providing services such as business consulting, marketing plan development, website design, e-commerce setup, media creation, advertising, video production, graphic design, and analytic dashboards," SOAR officials described the business.
In early 2021, with the company's burgeoning staff and projects in full swing, the partners determined their next step was to renovate and upgrade the 10,000 square-foot, two-story commercial building they own at 500 S. Main Street in downtown Corbin.
Financing the project became a challenge.
With a pandemic in full swing, traditional loan routes were limited, so they turned to a nonprofit lender they'd heard about called Southeast Kentucky Economic Development Corporation (SKED). Like The Holler Creative founders, SKED shares a similar mission of lifting Southern and Eastern Kentucky residents up by helping finance their small business dreams. They've been doing it for 35 years.
Only days later, and The Holler Creative was approved for a loan to help finance their latest project and renovation work had begun within a couple of weeks.
Coppock called the SKED loan application process "efficient" and says he was pleased with SKED's communication and the staff's encouragement and understanding of small business ownership challenges.
Flora concurred.
"It's rare to find a lender that desires to have a relationship with you," Flora said. "Chris (Coldiron) and Karen (Minton) have been so easy to work with on a daily basis, and we have had the opportunity to meet others in the organization along the way, too. This relationship will last much further past our loan agreement."
SKED Director of Lending Chris Coldiron worked with the partners to get them the funding that fit their needs.
"Kevin and Josh have combined their talents and skills to develop and implement a successful business with a great mission in the heart of our service area," Coldiron said. "It's a pleasure to see their project move forward, and SKED is proud to have played a small role in its growth."
You can follow The Holler Creative at theholler.com, purchase an item from their apparel line at www.lachianclothing.com, or Explore Appalachia with them by visiting www.exploringapp.com.
Learn more about how SKED helps small businesses expand and fund their ventures at www.skedcorp.com.