SOMERSET, KY – Small business partners Josh Henderson and Beth Ann Whitson didn't have to include a pandemic response section in their five-year-old business plan in 2020. Their customers wrote it for them.
The owners of Sign by Sign Graphics, LLC were working to get their full-service graphic design and custom sign business back on track following the spring economic shutdown when their customers began calling them with a different kind of need.
Since 2015, the Pulaski County business has been serving the region with customized boat and vehicle graphics, logo design and consultation services. Their clients knew they could call on them for personalized work and quality craftsmanship at their 116 Ben Way Drive location.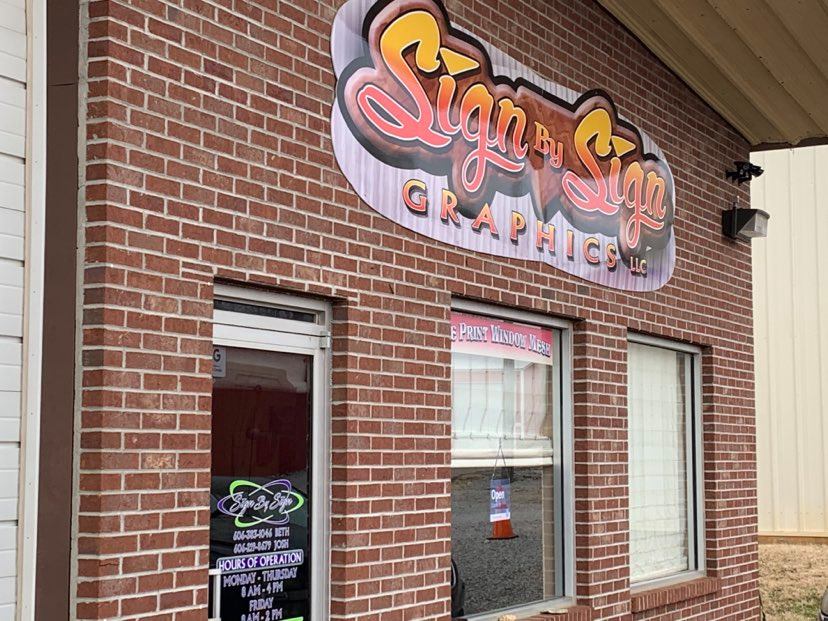 But when the economy re-opened for business, their clients needed signs to keep their customers and clients informed of COVID-19 restrictions and guidelines they needed to operate and to help keep them safe. And they needed them fast. Their customer base was expanding too. They were getting calls from schools, churches and other organizations needing signs.
Henderson and Whitson were more than happy to redirect their focus and give their clients what they needed as quickly as possible. Providing innovative solutions in a short time is part of their mission statement. With less onsite and face-to-face interaction with customers, the owners pivoted to more digital and electronic work and were able to offer both contactless payment and pick-up. They recognized just how flexible they could be during the pandemic.
"The advantage of being a small business owner is you can change to meet the demands of your market quickly," Whitson said. "There was a need in the area for the COVID restriction signs and announcements. We jumped in and adjusted on the fly."
But their requests and increased customer base, coupled with the necessity for super quick turnarounds on the signage, left Sign By Sign needing to expand both their production capacity and efficiency to meet the demand. They needed a new printer to help them fill their orders faster, and they needed it quickly.
Whitson learned about Southeast Kentucky Economic Development Corp. (SKED) through her previous employment in the government sector. She knew the nonprofit lender offered small business loans to purchase equipment and that its staff specializes in giving small business owners the assistance they need to succeed.
"We continually strive to seek out and investigate all entities that could provide assistance for the continued growth and increased productivity of our business," Whitson explained. "I knew SKED was an option."
And SKED was on deck.
One call and a short application later and Sign by Sign Graphics had the money needed to purchase the new printer and was then able to meet their customers' needs even faster than before.
Because SKED had adapted its business model to meet its current and new loan clients' needs during the pandemic, Henderson and Whitson were able to complete the application and be approved within days.
SKED Business Loan Officer Karen Minton worked with Whitson and Henderson to help them get their U.S. Small Business Administration (SBA) microloan approved to buy the new equipment.
"Our microloans are designed for small business owners who need money for equipment, startup capital or inventory," Minton said. "Beth and Josh needed money to adapt their business during the pandemic and keep their customers' needs met. We were happy to help them do just that."
For more information about Sign By Sign Graphics, LLC, visit their Facebook page at https://www.facebook.com/signbysigngraphics/ or give them a call (606) 383-1046.