SCIENCE HILL, KY – Josh and Danielle Anderson might be the busiest young couple in Pulaski County, Kentucky right now. And they wouldn't have it any other way.
If there's a tourism event taking place in the Lake Cumberland area or a new business that's under construction in the greater Southeast Kentucky region, you'll find the Andersons nearby. Their two companies keep their calendars full.
Fourteen-hour workdays are standard for them.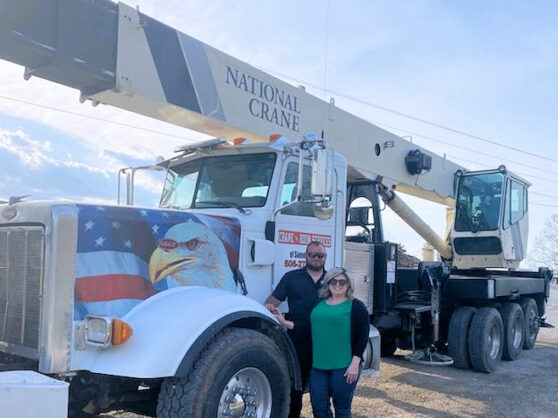 The Science Hill couple has been feeding folks some of the best local BBQ since 2012, as owners of a catering business called Get Ur Smoke On BBQ. In 2017, they expanded by opening a storefront business on US27 in Somerset. This year, they bought a second business that keeps the entrepreneurial couple on the road and involved in several local development projects.
The Andersons bought Crane and Boom Services of Kentucky Inc. in February. Josh quit his full-time job at Forcht Bank, and things "got real" for the husband and wife team. Managing two businesses is challenging enough, but Danielle continues to work full-time at First Financial Credit in Somerset. She juggles that with the two other companies and runs a busy household, too.
Did I mention they have four children?
"When the crane business was first mentioned, we didn't know if it would be a good fit for us, but after some research and Josh taking time to job shadow, we realized it would fit into our lifestyles. Hard work and or long hours do not intimidate us; our main focus is to take the best care of all of our clients and customers. Without them, we wouldn't be in business."

DANIELLE Anderson
The restrictions of the COVID-19 pandemic put all restaurant owners into a tailspin in 2020, and the Andersons were among them. They managed to keep Get Ur Smoke On BBQ open and serving customers, because of their catering and takeout experience. Still, the challenges of the pandemic shaped the reason behind why a second business appealed to them.
When the former owners of Crane and Boom approached Josh about purchasing the business in August of 2020, he began researching the crane and boom business. He realized he knew many of the business' customers and could quickly cultivate new ones. After some consultation from financial and insurance experts, he determined this new business would dovetail nicely with the restaurant hours.
So once the Andersons decided they were "all in" on the new business purchase, they saw the need for a lending partner who understood the challenges small business owners face and would work with them to help them achieve their unique dreams.
They found that help at Southeast Kentucky Economic Development Corp. (SKED).
The business loan experts at SKED worked with the Andersons throughout every aspect of the business purchase, matching them with the business loan programs available to them and educating them on the finer details of nonprofit lending and the extra business consultation offered by SKED.
Encouraging entrepreneurship and formulating financial packages is part of SKED's mission. The Andersons were a perfect fit for the loan products SKED is currently offering.
"Owning and managing a successful small business takes drive and determination," SKED Business Loan Officer Karen Minton said. "Josh and Danielle had already proven themselves in the successful management of their restaurant business during a pandemic. Our goal was to get them the business loan that best fit their needs and would help ensure this new business' success."
You can find Get Ur Smoke On BBQ between traffic lights seven and eight on US27. Check them out on Facebook for a menu and hours. Crane and Boom Services of Kentucky, Inc. can be found on Facebook as well.
For more information about SKED's business loan or business consulting services, please call 606-677-6100 or www.skedcorp.com.