MOUNT VERNON, KY – You can find nearly everything but the kitchen sink at Lone Star Farm and Home. The owners don't carry sinks in stock, but they can order one for you. That's the type of attitude Neal and Valerie Sluder keep. That's the type of outlook that has helped them build a successful business in the heart of their hometown, and that's what kept their retail operation thriving during the COVID-19 pandemic.
The Rockcastle County couple put their life savings and farm store experience to work for themselves in 2011. Neal had worked for Tractor Supply Company for 17 years before retiring as district manager in 2006. That kicked off his entrepreneurial career, and he and Valerie set to work building their own family business in the community they love to serve.
And serve they do.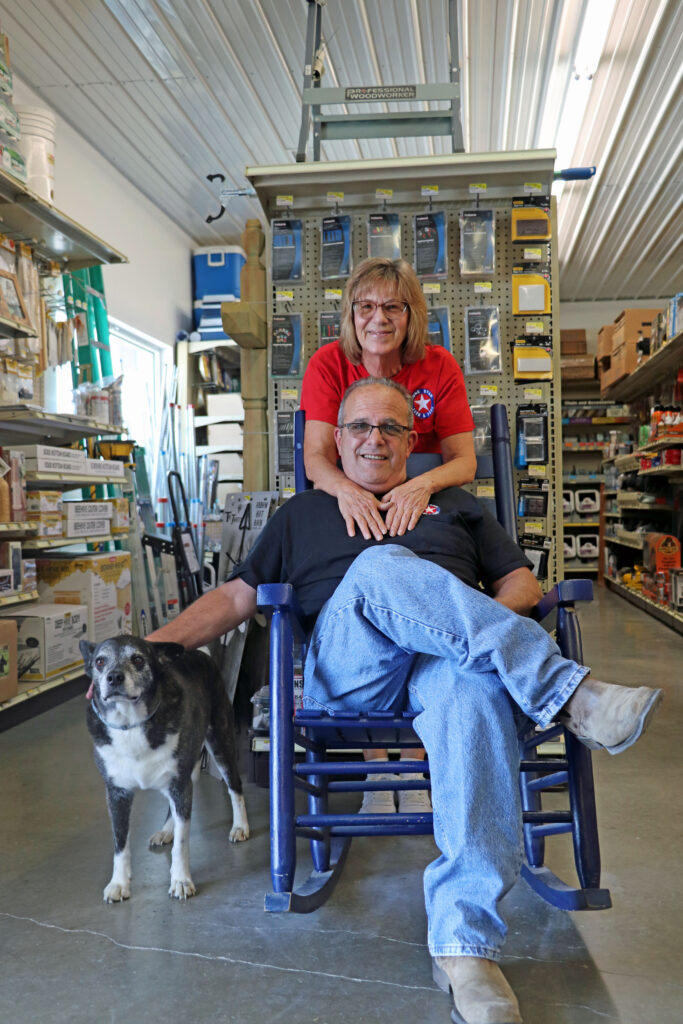 Although stocked with the newest and best farm and home products, the store has an authentic mercantile feel to it when you walk through the door. You'll find Valerie busy behind the large wooden counter, and Neal might be taking a break leaning back in his UK blue rocking chair near the front door. But both will greet you with a smile and a "howdy" as soon as you enter.
Once you're in the store, they get to work doing everything possible to find what you need at the best deal they can offer.
If you need it, there's a good chance you can find it in one of their departments. There are many including tools and hardware, welding supplies, automotive supplies, lawn and garden, large and small animal feed, toys, fencing, pet supplies, pest control, apparel and footwear, home decor and snacks, and more.
For years, they managed the business pretty much on their own with only a limited staff.
When the pandemic hit in 2020, the store was designated an essential retail operation allowing them to stay open. That was good news. But it did force the Sluders to change the way they do business. They discovered they simply couldn't do it all themselves. Curbside service and extra safety measures were a must and resulted in the need to add two part-time employees.
Business growth can be intimidating. The Sluders needed advice on the best and safest way to protect their investment.
Having a bigger payroll created the need to restructure some of the business' financing, and the Sluders knew just who to call. They'd heard about Southeast Kentucky Economic Development Corp. (SKED) from their neighbor and friend, Marcella Lovell. SKED helped her finance an expansion at Marcella's Farm to Fork in 2020, and she told her friends all about her experience with the nonprofit lender. SKED does things differently than a traditional bank, she told Neal. So he gave the lender a call.
That call and the personalized services SKED provides helped him solve his immediate problems quickly, he said.
"The entire experience was a pleasure. From the first call with SKED Director of Lending Chris Coldiron, I knew it would be a fit for our business. The entire process only took a little less than two weeks to complete from that first phone call. They traveled to our business to finalize the paperwork so that we did not have to take unnecessary time out of our store. It couldn't have been easier."

Neal Sluder
Neal added that he would recommend any small business owner to consider working with SKED.
"Not only were we able to save money, but we saved time as well, and in retail, time is money," he added.
SKED has been helping small business owners keep their doors open for most of its 35 years. The Sluders needed help restructuring their finances, and the newly awarded Economic Development Administration (EDA) CARES Act funding was a perfect fit to help them fill the gap.
Coldiron says being able to help entrepreneurs find solutions and match them up with business loans that fit their needs is always gratifying. The Sluders are the perfect example.
"It was great working with the Sluders," Coldiron said. "Their store has great selection and a real family atmosphere. The EDA CARES Act funds are meant to help finance changes in the way small businesses serve their customers necessitated by the difficult conditions under COVID restrictions. Lone Star Farm and Home had to change how they did business under COVID, but didn't change their level of service and selection in the process. We at SKED are grateful for the opportunity to work with the Sluders."
Follow Lone Star Farm and Home on Facebook https://www.facebook.com/LoneStarFarmandHome to keep up to date with their newest items and sales and stop by for a Moon Pie and a Coke at 33 Catalpa Lane Mount Vernon, Ky., when you're in the area.
Learn more about how SKED helps small businesses expand and fund their ventures at www.skedcorp.com.