LIBERTY, KY – The speech therapy that Allison Sallee received as a child gave her the inspiration to pursue a career in the field. Today, her education, work experience, and love for helping children have provided the courage she needed to open her own clinic in the heart of her hometown.
Sallee opened All About Kids Therapy Center, LLC in downtown Liberty, Ky. in June 2021. She calls it a dream come true in the middle of a pandemic.
"I received speech therapy as a child and knew what a difference it made in my life," she said. "I want to be there for others in need like the ones who were there for me. I currently specialize in speech and language disorders in children, which are the areas in which I have the most experience. I also have a passion for adult dysphagia and language disorders, but children have my heart."
Sallee will provide therapy services at the Liberty clinic, including screenings, evaluations, and treatment for children ages birth to 21. She hopes to offer much-needed services close to home for local residents.
Because this is a start-up operation, Sallee realizes developing a client base will take time. She plans to contract with occupational and physical therapists in the region to acquire referrals and new clients.
"My goal is to hire an occupational, physical, and behavioral therapist. I would love to be able to offer all therapy services, as well as mental health counseling in the future," she said "I want children and their families to be able to come to a welcoming, loving therapy center where our professionals would do anything they can to help the children succeed. I'm currently seeing four clients for speech therapy and continue to have new interests each week. I'm so excited for my clinic to take off and be able to make a difference in so many lives."
She got her start working for one of the region's premier children's therapy centers: KidSpot Center (KSC). She began working at the Campbellsville, Ky. KSC location after graduation from Eastern Kentucky University in 2018. At EKU, she earned a master's degree in Speech-Language Pathology. For three years at KSC, she learned from some of the best in the business.
"I was so excited to begin my journey helping children and was so blessed to be able to work at KSC. My experience there helped me grow as a clinician, and I'm so thankful for that."
She also worked at Brighter Futures Therapy Center in Russell Springs, Ky., where she worked with children in an outpatient setting for two years.
But opening a clinic of her own has been the ultimate goal for the young entrepreneur. She says her husband, Jordan, and family encouraged her to follow through.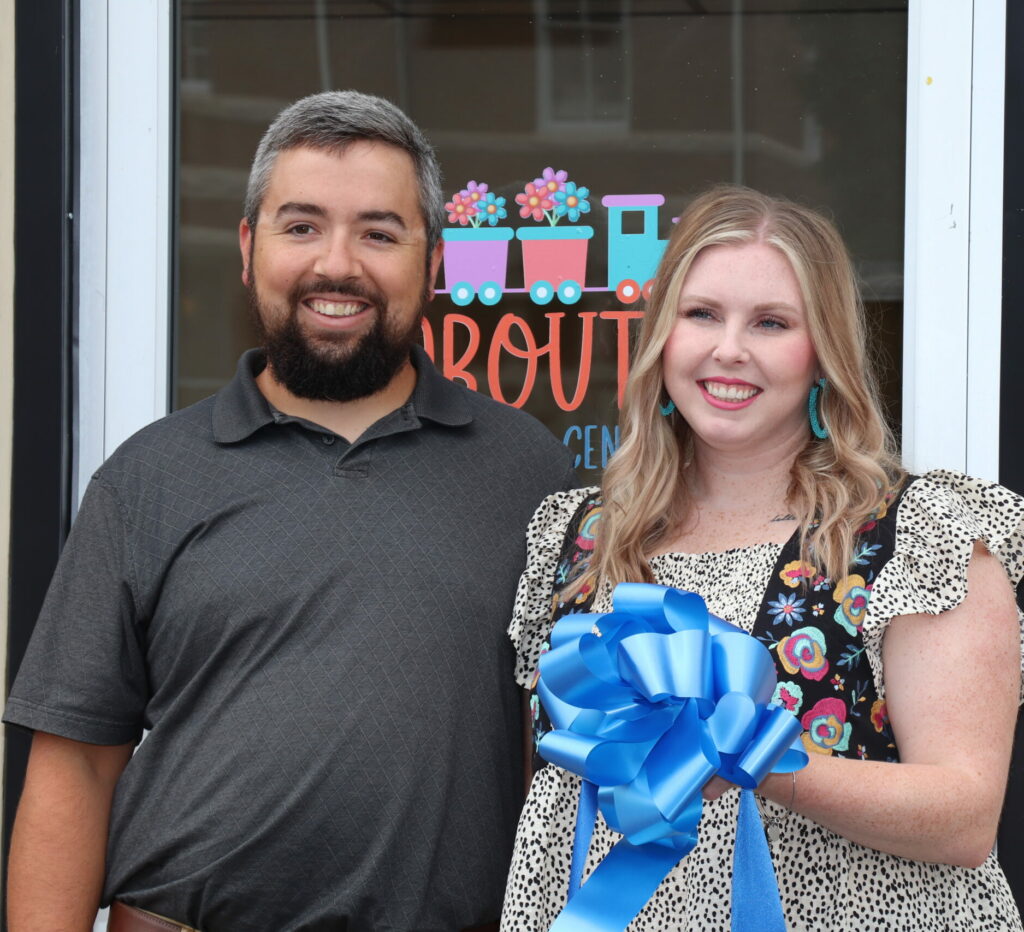 "Opening a clinic of my own was a dream I wasn't sure would come true, but with lots of encouragement and support from my husband and my family, I decided to take this leap of faith," she added. "Working in other counties allowed me to meet and serve amazing families, but I always wanted the opportunity to serve families in my hometown."
Clinics in surrounding areas often have waiting lists, and Casey County families often have to drive out of town to receive services, she explained.
"I wanted to open this clinic to, hopefully, decrease waiting lists at other clinics, create an opportunity for families in my area to receive services, and create job opportunities in my hometown for other therapists," she said. "Being in my hometown and being able to serve families in my community is one of the biggest blessings I could receive."
But Sallee needed a lender who shared her dream and believed in her vision to help finance the equipment and technology she needed to establish the clinic.
She found that help at Southeast Kentucky Economic Development Corp. (SKED). SKED works with small business owners and entrepreneurs to put them on the path to successful ownership. The nonprofit has been doing so for nearly 35 years.
When she contacted the lending staff at SKED, they came to her business to hear her plan and help formulate a program to see it come to life.
Business Loan Officer Karen Minton, a Casey County native herself, was eager to hear her plan and proposed a business loan package to fit the project. One of SKED's U.S. Small Business Administration Microloans was the answer.
The loan funds were used to purchase equipment and for working capital.
"Allison has been a pleasure to work with," Minton said. "She was so excited to open the clinic in her hometown. I know the county is going to benefit greatly from her being there."
Sallee says the SKED staff has been a great resource and provided the financing and encouragement she needed when she needed it most.
In addition, Small Business Training Specialist Kyle Smith helped Sallee set up her social media for the business and is currently working on a website for the clinic.
Follow All About Kids Therapy Center, LLC on Facebook https://www.facebook.com/All-About-Kids-Therapy-Center-LLC-102655505402317.
To learn more about how SKED helps small business owners do business better, visit www.skedcorp.com.