SOMERSET, KY – Small business owners are often called on to personally sacrifice for the greater good of the company they're working to build. For Johnny Flatt, that meant selling the 1969 Camaro Z-28 he had spent the last four years restoring. Flatt says it's a small sacrifice to invest in a small business dream, with his partner Kelly Mitchell by his side.
And that was the beginning of Flatt-Broke Sign Works.
The Pulaski County-based business owners believe that "every sign tells a story." Flatt and Mitchell combine their unique talents to create nostalgic, personalized, decorative signs on heavy-gauge metal, hand-crafted barn wood, and more. Signs can be personalized and customized to include names, photos, or other artwork.
Flatt had saved two decades to buy the Z-28, and he spent the next four years restoring it.
"The car started the idea, but then I had to sell the car to fund the business," Flatt said. "So it's bittersweet."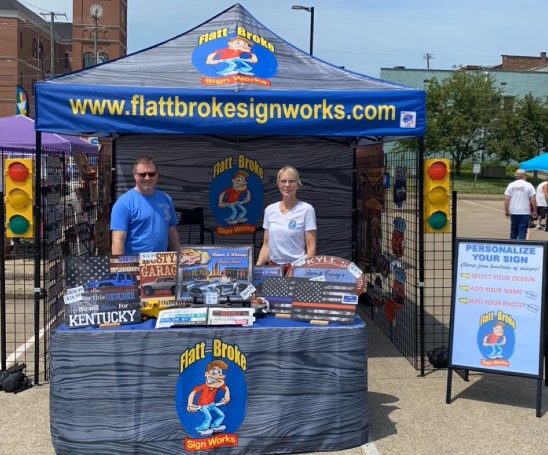 Flatt and Mitchell were inspired to start their own sign business after watching a similar one being made while on vacation in Gatlinburg, TN, in 2018. They set out to learn everything they could about the company and, today, they are designing and producing their own signs.
But in the beginning, they needed help from an experienced sign maker to show them the ropes and print the products they created.
They became a Somernites Cruise sponsor and set up a vendor booth at the Somerset event each month and other regional events and attractions throughout the summer and fall. They display their signs in their vendor space and take custom orders that they make and ship after the show. They travel to various festivals across the state.
Once they felt their skills were marketable and they'd sold some signs, they felt ready to invest further and purchase a commercial-grade printer. They sought out a lender with experience in helping small business owners live out their dreams.
This search led them to Southeast Kentucky Economic Development Corp. (SKED). They learned that not only does the nonprofit lender provide small business loans, but free business counseling and training to help give their business the edge it needs to succeed.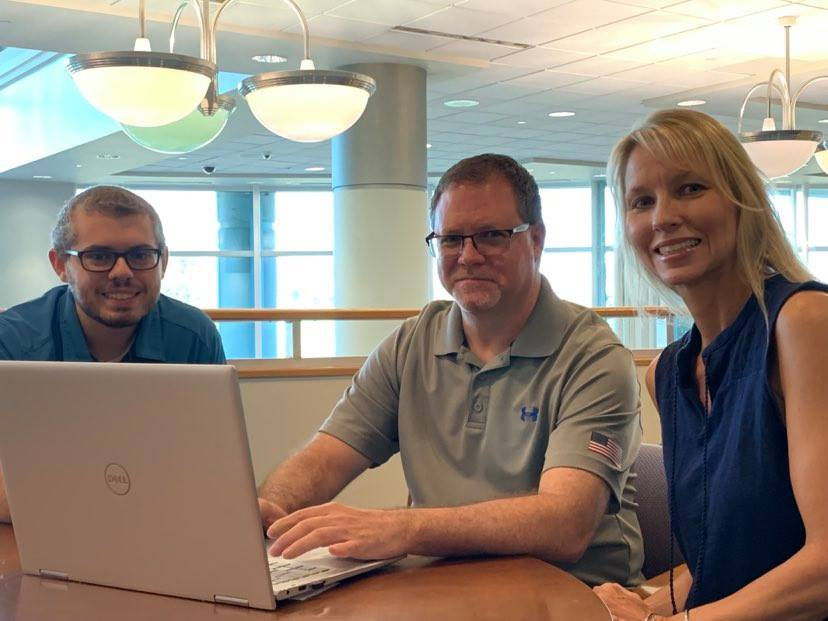 SKED's SBA Microloan program was the perfect fit to finance their equipment purchase.
"We feel fortunate to have not only obtained a small business loan through SKED, but we are also appreciative of the guidance and support that was provided to us from the onset," Mitchell said. "SKED has provided us with multiple resources and staff to ensure we are successful."
As part of the SBA Microloan funding, SKED's training staff has been helping the owners with additional digital software training, social media support, and website design.
Smith says working to help small business owners take advantage and reap the benefits of a successful website and digital media plan is one of his most enjoyable job tasks.
"Working with Johnny and Kelly has been great," Smith said. "They have been open and willing to try new technologies outside of their comfort zone and continue to amaze customers with the products they produce. If you are a car enthusiast and want to show off your pride and joy, give them a call. And if you cannot make it out to a show to visit them, keep an eye out for their website and online store to be released soon."
For Flatt-Broke Sign Works, the story continues to grow and develop. Learn more about Flatt-Broke Sign Works by following them at https://www.facebook.com/FlattBrokeSignWorks and check them out at the next Somernites Cruise.
Learn more about how SKED helps small business owners live out their dreams by checking out other success stories on this website.
Contact karen@skedcorp.com to find out how SKED can help take your business to the next level too.