Human resource managers have had a steep learning curve over the past year. In many ways, they were on the front line following the economic shutdown. Response and recovery have taken time and help. In fact, it's still under way.
Kim Chasteen, Highlands Diversified Services (HDS) Director of Human Resource, calls it the most challenging – yet rewarding – point in her 20-year career.
"We were down 90 employees after work resumed in May 2020," Chasteen said. "People simply weren't willing to return to work. Some were afraid of getting the virus; others didn't have childcare. There were all kinds of reasons they couldn't come back to work."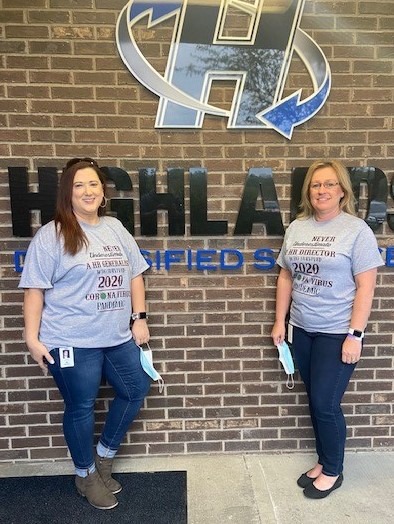 The longtime Laurel County manufacturer had just been awarded several new contracts just as the pandemic hit. Its management called the timing of events a disaster. Chasteen and her staff were called on to report for hazardous duty.
HDS' owners could only watch as its workforce plummeted. The business had contracts requiring three shifts of workers to fill, but the people were simply not there. Chasteen says the facility's employment numbers fell to extreme lows, just as the need for contract fulfillments picked up.
In desperation, the call went out for help.
HDS owner Ian Hessel had a working relationship with Brett Traver, Southeast Kentucky Economic Development Corp. Executive Director. Hessel sent a message to Traver on a Sunday evening, and Traver set to work to get him and his company some help.
Within days, some of the region's best workforce and economic development professionals began collaborating to find answers, build a coalition, and solve the privately-owned business' labor force issues.
This army of professionals meet via Zoom call every couple of weeks; after that, they met monthly and have worked as a team for over a year now.
Their collaborative efforts are working.
HDS ramped up to its pre-COVID numbers by January 2021, adding more than 100 new employees over the past year. The company continues to hire, as they are still short-staffed.
It was Traver who pulled it all together, Chasteen explains.
"He pulled the team together, set up all the calls, and helped put all of the pieces in place to get the ball rolling on getting us the help we needed."
Traver explained the working relationship between SKED and HDS has developed over the years.
"To move companies like HDS and the region forward out of the pandemic, we must help bring the great people we have in this region back into the labor force," he said.
Traver further explained how pleased he's been with the collaborative efforts of the team.
"At SKED, we see a need in our region's workforce and get to work trying to meet it. This project is no different," Traver said. "I am thrilled with the work being done and the team's successes. Each member of this team has gone above and beyond what's been asked of them, and I am grateful for their time and tenacity on this project."
Economic Recovery Coordinator for the Cumberlands Workforce Development Board Lyndsey Brown was a key partner. She worked to develop community partner focus groups to help increase the number of employees at HDS.
Members met via ZOOM call weekly to develop and execute a plan to help HDS meet its goals, help the business develop a more reliable workforce, and retain employees to meet its contractual requirements. They developed marketing ideas, put forth retention efforts, and called on others who had resources to share.
The small focus groups include a representative from Goodwill, Brett Traver, executive director at Southeast Kentucky Economic Development Corporation (SKED); Paula Thompson, executive director of the London-Laurel County Economic Development Authority; Horizon Health; Second Mile; Workforce development boards, the Eastern Kentucky Concentrated Employment Program, the Daniel Boone Community Action Center and more.
The team addressed barriers that were resulting in the workforce issues. Some included: lack of transportation, housing, and medical issues, among others.
"Through our continued efforts and collaboration during each partner meeting, Highlands Diversified was able to hire 100 plus additional employees since early 2020," Brown explained. "I have worked with Kim Chasteen and her team on an individual level to assist in recruitment efforts, marketing designs, and strategic avenues of how to target individuals throughout different areas."
There were small successes and landmark moments along the way.
Goodwill's Regional Manager of Career Services Director Becky Wilson worked with HDS to help employee Melody Lemar with reliable transportation to work, thanks to its Cars to Work Program.
Lemar expressed her gratitude for the Goodwill Cars to Work program and HDS.
"I'm really grateful for where I am today, especially for my job. I've got a second chance, and I've found a new way to live," Lemar said. "I'm blessed that HDS has helped me get a vehicle, and now I can be independent and not rely on others' help. I will be able to help people the same way I was helped. I am grateful for so much, and I believe God works in mysterious ways."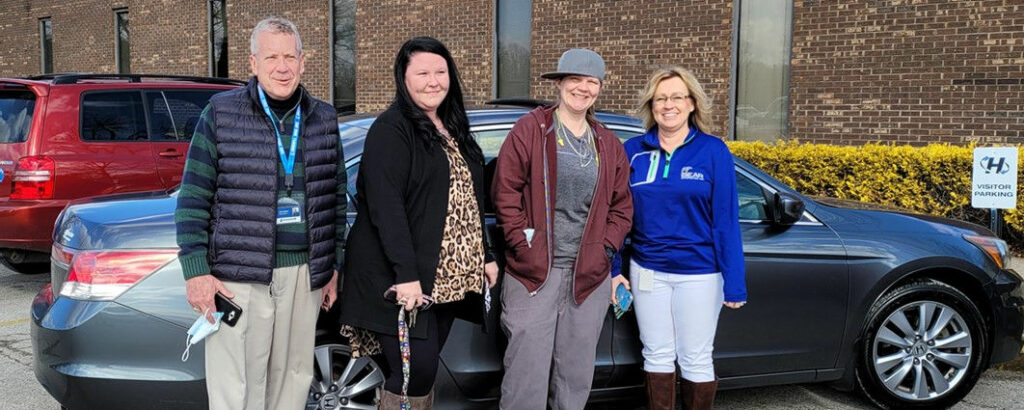 Chasteen recalls when another employee reported to work wearing only shorts, and she was ready to send him home. Then, the workforce group told her about Daniel Boone Community Action Agency and how the nonprofit could get potential employees the proper clothing and safety boots they needed when they needed them.
A year into the pandemic shutdown and the waves of change that accompanied it, Chasteen says she's learning more about helping her employees get and keep their jobs than at any other time.
"This has probably been the highlight of my career," she said. "I've learned more ways to help our workers than I ever dreamed possible. I call it putting the human back into human resources. Getting workers the help they need to show up every day is rewarding, and there are nonprofits and workforce professionals out there offering these services every day. You just have to know where they are and how they help."
London-Laurel County Economic Development Authority Executive Director Paula Thompson called the partnership a diverse group and a "game-changer" for HDS.
"London-Laurel County Economic Development Authority's mission is to create, grow and retain jobs for our community. As employers grow with new contracts, we often assist in helping them hire with written and verbal communication and job fairs. If they are unable to hire the employees needed, then retention is our focus," Thompson said. "We want to do what we can to ensure their company remains active in our community. While employment is subject to factors out of everyone's control, such as a pandemic, we want to be a resource to help them deal with unexpected economic situations. Often discussing area topics such as pay scale with the employer will help them hire the team members they need."
Highlands Diversified Services, Inc. is a privately held, vertically integrated contract manufacturing company specializing in metal stamping, welding, powder coat painting, assembly, warehousing, and distribution. HDS is a full-service manufacturer meeting the needs of a diverse customer base within the telecommunications, automotive, aerospace, appliance, and industrial equipment market segments.